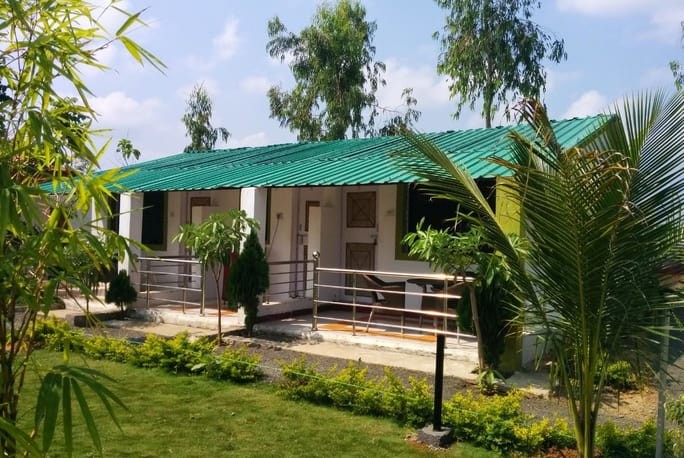 Tadoba hotels and resorts are spread across 12 gates and are about 20- 140 kilometers apart. Be very careful which resort you select since it has to be close to the gate from where you aspire to take the Tadoba Wildlife Safari.
Confusing? Just choose a hassle-free Tadoba tour package and get additional benefits of jungle tour.
To find the comprehensive list of all hotels & resorts of Tadoba, their date of availability, rates, to which gate they are connected, how far are they from the main safari point, which buffer safari points are related with what gates as well as to find the way to book Tadoba Tiger Safari, to book the gypsies & drivers, to book the guides, please visit www.tadoba-national-park-booking.com
Fortunately you can simply find a hotel or a resort from budget, luxury to super luxury categories that meets everyone's budget but most important is to book the Tadoba Tiger Safari first, then make a note of the safari gate and lastly book the resort that is near to that gate.
Lot of individuals make the error of initially booking the resort without even thinking about the safari and some make the blunder of booking safari at a different gate and resort at a totally different gate in Tadoba National Park without realizing that these gates are far from each other with max 140 kms apart.
Tips for Choosing the Best Tadoba Hotels & Resorts:
Each gate is separated from the other by approximate distance of 20 to 140 kilometers. So please don't book Tadoba Wildlife Safari at a given gate and resort at a different gate because you will regret later. Basically, it's impossible to go to the gate from your resort if there is such huge distance gap and worse you can't come back in the afternoon to take a nap either since you can't go back again to the safari gate for the afternoon jungle safari on time.
Further, ensure that your selected accommodation is not much distant from the safari gate in Tadoba National Park. If it is pretty far, it not only wastes your time in the morning to get to the safari gate, you might also turn out to
be the last one in the line to get into the forest (and therefore might miss the sightings of Tadoba Tiger Reserve). You may also end up paying added cost to the gypsy driver to pick and drop back and thus may increase your overall safari cost.
We visited a number of resorts over there (yes, a 60 of them in the whole Tadoba expanse) and we found many are NOT what they seem like on their website and some don't even have basic amenities like (hot water is limited to a specified time and you need to get it in a bucket from reception, food is quite limited and available for short time) and such other irregularities will certainly spoil your safari experience and as a whole your forest visit experience and you may just go back with a bad taste. So selecting the right hotel or resort and at a right distance from the gate becomes vital.