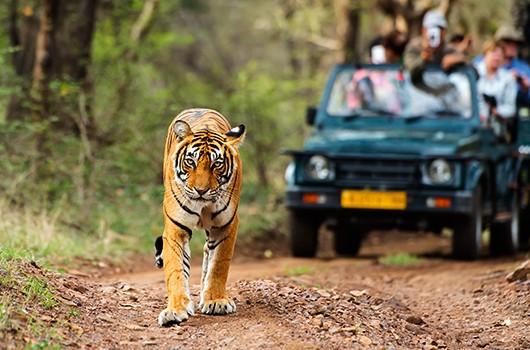 Here are some key points to take into consideration prior to going for safaris in some of the top Indian National Parks:
If you are travelling with friends & family, try to be as silent as possible. Pay attention to the Jungle, it has a unique language. Ask the tour expert for the sounds of birds & animals that you listen to in the course of the safari.
Do least actions in the vehicle, especially during the stage you sight an animal. Such actions can confuse the animal and they can run away.
Wear nature-friendly colors such as greens, beige, browns and military color to name a few.
Study the weather, projected temperatures during safaris, as it is best to be prepared for the same. Lot of visitors coming from cold western countries under-estimate the wintertime temperatures in the jungle, and are amazed.
Try not to wear strong perfumes as several animals have strong olfaction (sense of smell) and it can confuse them.
Listen carefully to what the safari expert and jeep drivers have to say.
Getting down from the vehicle is strictly not allowable, the tour experts will tell you of the spots where it is permitted.
No fire arms to be taken inside the national park.
Do not feed anything to the animals in the national park.
Do not throw disposables outside the vehicle.
Flash photography is strictly not allowed.
If carrying a cell phone, keep it on silent or vibration mode. Generally, carrying a mobile will be pretty futile as you will not catch networks within the national park.
Drinking liquor or smoking is non-permissible inside the park.
In case, any animal gets close to the jeep then don't try and touch it by stretching your arms. And if you are not comfortable with any animal's presence in the locality, then inform the safari expert or the driver about it. Generally, animals don't get so near as to be in touching distance.
Make use of the washrooms in the hotel, or near the national park entry gate (Remember not all the park entries offer washrooms). Try avoiding lot of water intake prior to the safari in order to avoid running to the washroom. However, these days there are some make shift toilets in the jungle.
Do not forget to carry a hand sanitizer.
Carry your own water bottle, but only taken little water sips inside the park and evade drinking lot of water to avoid point no 15 as above.
The vehicle is not roofed, so you are exposed to severe sun rays, therefore carry or put on a sunscreen lotion. A hat is another best option to have.
As the national parks you are visiting are dry and deciduous so there is lot of dust breeze when the vehicles drive through these tracks. If you are dust allergic, then carry a mask or bandana to cover your nostrils.
Usually, it does not rain in the months of safaris, but there may be few light or heavy odd showers. Prior to heading for a safari, do have a glance in the sky. If you happen to see some clouds, certainly carry some bag to shield your camera kit.
Carrying some cookies is a good idea if you are habituated of eating something every few hours.
Have a light lunch before the afternoon safari as a full tummy, and the wind on your face can make you sleepy.
When going for an early morning safari, one is habitual to have morning tea/coffee with some biscuits. In some parks like Kanha and Tadoba, the breakfast is carried in the vehicle and served at some chosen spots. But in national parks like Corbett, you are likely to have breakfast after you come back. In winters, the morning safari conclusion time is around 10:30hrs, so one tends to skip on breakfast, thus carrying tiffin of cookies helps. Ultimately, choice is yours if you wish to let go your breakfast for a safari, or safari for a breakfast. Let the safari expert and driver know and they would act consequently.