Madhuri Is Supermom of Tadoba With 19 cubs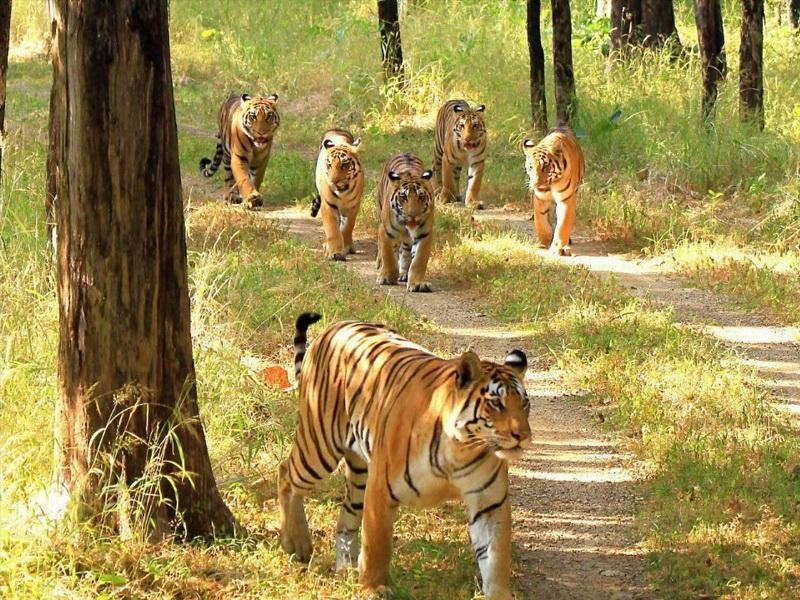 If famous tigresses Maya, Sonam and Chhoti Tara are the face of Tadoba Tiger Reserve, Madhuri who delivered her 5th litter last month, is nothing less than the 'Royal Queen' of the buffer zone. The tigress has delivered 19 healthy cubs in the span of 8 years.
The officials of Tadoba Tiger Reserve and wildlife enthusiasts are excited over Madhuri giving birth to 4 cubs in Agarzari area, outside Mohurli, in the buffer zone. The wild tigress has been sighted occasionally with 1 and half-month-old cubs over the previous month by sightseers in Tadoba National Park.
As per Tadoba Wildlife Safari experts, a female can deliver some 7-9 litters over her 10-14 year lifespan. However, 9-year-old Madhuri might deliver 2 more litters. She is nothing less than a celeb supermom like the Collarwali of Pench (Madhya Pradesh), which gave life to 26 cubs through 7 litters between the year 2008 and 2017 end.
The chief conservator of forests (CCF) and field director of Tadoba National Park, Mukul Trivedi, confirmed the growth. "It only drives to show that the main area of best tiger reserve in India– Tadoba alone is not the breeding point for tigers but also the buffer zone, where the extensive wild habitat is quite amazing," said Trivedi.
The deputy director of Tadoba Tiger Safari, Gajendra Narwane, said, "Owing to improved monitoring and defense, tigers are feeling secure in buffer. There is right prey base in Agarzari and extensive wild habitat required for the tigers is favorable.
Narwane further added one of the reasons for healthier coexistence is also real execution of Dr Shayamaprasad Mukherjee's 'Jan Van Yojana' in one of the best tiger reserve in India.
Even Bilal Habib, the scientist at Wildlife Institute of India (WII) admits that though the Tadoba tiger numbers has touched a saturation point, it is still very dynamic. If the count of last 4 years is to be considered, then they are almost between 51 and 56 tigers. Likewise, in buffer, the count has escalated further. "Long-standing monitoring of this population will assist in realizing tiger dynamics in a much superior way," Habib added further.
A reminiscence of Madhuri's litters highlights that the tigress had delivered her 1st litter of 3 cubs in the year 2010 at Yenbodi area in Mohurli. The 1st litter didn't live to see adulthood, as all cubs were exterminated by Waghdoh male (Considered to be the largest male tiger in India) who defeated their father Yeda Anna.
Madhuri's 2nd litter, of 4 cubs, in 2011 was parented by Waghdoh male. This litter was popularly recognized as the "Telia" sisters —Geeta, Sonam, Lara and Mona — made renowned by a documentary film on their growing days, broadcasted by a wildlife channel. After 2011, Madhuri was expelled by her daughter Sonam and relocated to the buffer. Today, Sonam has taken over Telia lake area and is parenting two litters — one in 2015 that delivered 3 cubs and another last year with 4 cubs.
After being relocated in the buffer, Madhuri delivered 4 cubs in 2014 sired by Wagdoh male in Mohurli. Her fourth litter of 4 cubs came to life in 2016. This litter was sired by Khali (T55), who had thrown out Waghdoh. Now, Madhuri has yet again delivered 4 cubs sired by Khali. This royal tigress's cubs have been documented by Tadoba Wildlife Safari team. Nevertheless, it is a big question mark where these tigers would go after achieving adulthood.
Tadoba Safari Booking: Call Us on +918355988158 OR To Get More Information,
Click Here