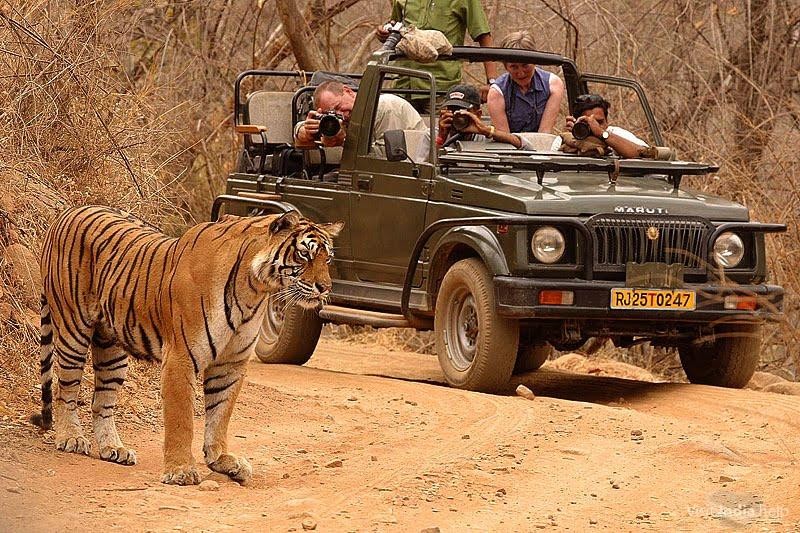 Tadoba is an amazing Tiger Reserve and one of the top Tiger Safari destinations in the country.  But it can get discouraging if you are a first timer and want to book a tour package to Tadoba. Particularly when you discover that there are 12 safari gates spread across a forest expanse of 500+ sq. km. and each gate is alienated from the other ranging from 20 kms to 140 kms. Moreover, booking Tadoba Tiger Safari is also very puzzling considering there are 3 parts to it and a number of times people pay the initial part (that is the online fee) and think that's the complete one only to be astonished later that they have to pay more or less double of it at the gate. Hence, this article helps to reveal them. Hope these 5 key tips will really make you enjoy the magnificence of Tadoba Tiger Reserve.
1. Guide/Tiger Tracker –
The most imperative single factor influencing the success of your much anticipated Tiger Safari in India is choosing the best Guide/Tiger Tracker. Generally when you get the safari vehicle, you have the guide that the forest department allocates but touring around with someone at random will not support your purpose.  Always take along the one who has the best review and reputation in the industry. Do checkout prior to going with one of them. A lot of guides just have a tendency to drive around the park halting here and there for a bit, with no judgement or any information about where the tigers were shortsighted the day before. At times, they simply say that the tiger is in that part of the woods and then make you stay for the entire day for the tiger to become visible, thus saving on petrol. A well-informed guide, who enjoys his work, will ensure that he has the right information regarding the progress of tigers (he will know about the Tadoba Wildlife Safari at his fingertips). Check with him about Tiger sighting information for the past few days and he must be able to update you or else you are in a company of bad tracker alas.
2. Tipping –
It is advisable to tip the guide and the driver at the finish of each session's safari at Tadoba National Park. The rule of thumb is to offer Rs.100 and up to Rs.200 to the guide and the driver individually (only if you wish to).
3. Photography –
It is extremely dusty on the trails in the park. Just one trip and your whole camera will look red/brown based on the color of the soil over there, it is wise that you carry a camera bag to place your equipment while you aren't shooting. Don't forget to get your lens cleaning materials. A bean bag also aids in stabilizing your camera. Ensure you bring additional batteries as electricity supply is to some extent unreliable over there. If you are well prepared, this could be a wildlife photographer's paradise in the best tiger reserve in India.
4. Clothing –
It would be a good idea that you carry the face masks for yourself. They are obtainable at the gate, costs approx. INR 100 (but not obtainable at all gates) but it would good if you get it. It gets quite dusty and especially if you suffer from dust allergy. A surgical face mask (offered at any chemist) also works and many resorts and hotels in Tadoba do provide this if you ask for it. Also, it gets quite cold in the morning (irrespective of the season), thus you need to wear multiple layers and/or take a blanket.
We hope you as First Time Tadoba visitors will be glad about these tips and hopefully will aid you to get pleasure from your trip to the crown of Vidharba, the Tadoba National Park. If you need any precise info, or support in any part of this travel planning then be free to contact us today!