TADOBA NATIONAL PARK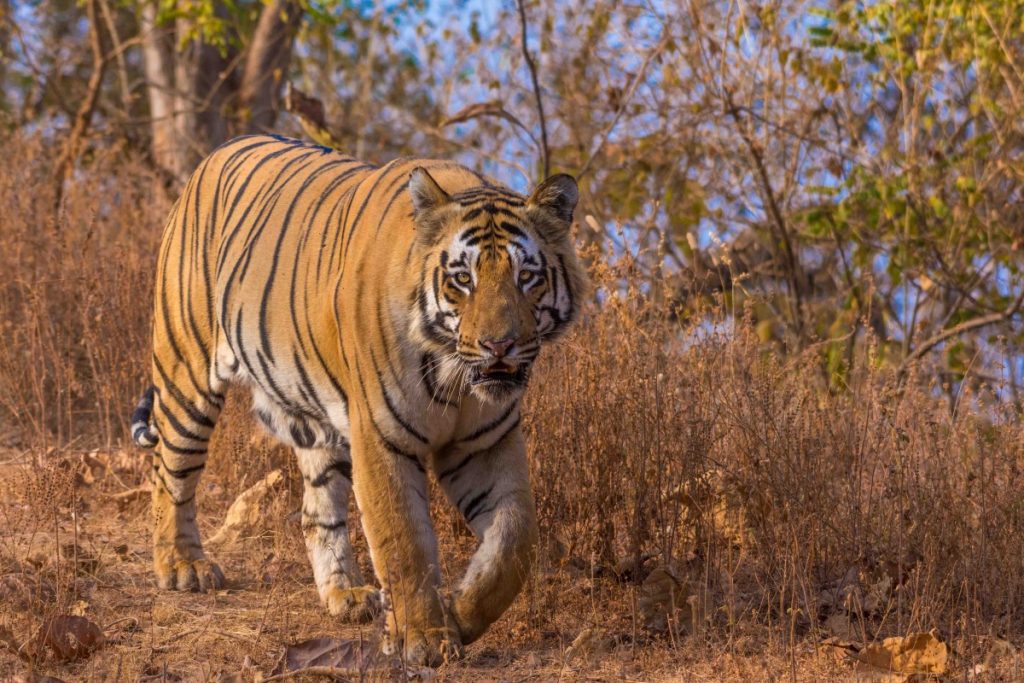 Tadoba National Park is located at the core of reserved forest and spread in the area of 1727 sq. kilometers, which lies in the Chandrapur district of Maharashtra (India). It is one of the largest and oldest national park, which has a trove of a large number of species of trees; plants and wildlife like panthers, hyenas, sloth bears, sambar wild dogs, jackals, tigers, barking deer, bison, a herd of deer to name a few.
Overshadowed by teak wood; bamboo, and with an enchanting landscape of rugged high cliffs, marshlands, lakes, etc., it's full of flora and fauna, which were once privileged by shikaris (hunters).
Location and Topography
| | |
| --- | --- |
| Longitude: | 79° 47′ 52" E to 79″ to 56' 43" East |
| Latitude: | 19° 31′ 40" N to 19″ to 42' 25" North |
Weather and Temperature
| | |
| --- | --- |
| Temperature: | Minimum 6.7° c Maximum 47° c |
| Weather: | Hot in March to May, Normal in June to October, Cool in November to February |
| Height: | 188 M |
History
Tadoba National Park has a great history behind its name of Tadoba. Taru was the name of the god of tribal people that reside in the dense Tadoba region. It is believed that Taru, who was a chief of the village, was killed in a legendary encounter with a tiger. Hereafter, a shrine was made to devote the God Taru that resides under a massive tree and on the bank of Tadoba Lake. Likewise, 'Andhari' name was given due to Andhari River that flows through the woodland.
Earlier, the kings of Gond ruled this forest in the vicinage of the Chimur hillsides. During 1935, hunting was completely restricted, but later on in the year 1955; the area of 116.54 sq. km (45.00 sq mi) was recognized as The National Park. Andhari Wildlife Sanctuary was made in 1986 and later in the year 1995, the park and the sanctuary were combined together to develop present India's 41 "Project Tiger"-Tiger Reserves.
Flora in Tadoba Tiger Reserve
One of the most popular species of trees is Teak and bamboo in this forest. Some other common trees include:
Ain (Crocodile Bark)
Bija
Dhaudab
Hald
Salai
Semal
Shisham
Sisoo
Shivan
Surya
Sirus
Tendu
Beheda
Bel
Chichwa
Dhawada
Kusum
Hirda
Karaya Gum
Mahua Madhuca (Crepe Myrtle)
Lannea Coramandelica (Wodier Tree)
In addition, Axlewood Anogeissus Latifolia is also found here, that is a fire-resistant species, while on the other side, Butea monosperma adds vivacious shade to this forest. Arjun trees are also seen at Panchadhara.
Fauna in Tadoba
Tadoba National Park is a popular tiger reserve that's affably called as 'The Land of Tigers' as large number of tigers (approx.43) are found here. Apart from the species of Bengal Tiger, this park is home to various other mammals like Sloth Bear, Leopard, Rusty Spotted Cat, Gaur (Indian Bison), Indian Mouse Deer, Spotted Deer, Ratel, Sambar, Wild Pig, Flying Squirrel, Four Horned Antelope, to name a few. As soon as the night falls, the Little Indian Civet, the Ratel, and the Flying squirrel make their presence felt.
Some of the major wild animals that are always found in this park are:
Hyenas
Spotted Deer
Wild Boars
Barking deer
Gaurs
Four-horned Antelopes
Blue bulls
Indian Pangolins
Common Langoors
Porcupines
Above all, there are approx. 195 species of birds that include grey-headed fishing eagle, honey buzzard, crested serpent eagle, the shy jungle fowl, paradise flycatcher, etc. Species of reptiles are also found in this park like endangered Indian python, star tortoise, cobra, terrapins, etc. Apart from this, the signature spider, giant wood spider, and redwood spiders are also seen.
Best Time to Visit Tadoba National Park
Summer: The summer season starts in March and ends by May. The hottest months in the park are April and May. Dehydration possibilities are higher. The skies are certainly clear. This is the best time to spot animals with their cubs around the lake. It is also a great time for bird spotting.
Winter: The winter season starts in October and ends by February. The winter has a pleasant climate as well as rich flora. Spotting small and large mammals are quiet easier during this season. The migration birds can be spotted during this period.
Rainy: The park is closed during this season. The rainy season starts by
July and ends by September month. The park receives heavy rainfall and the terrain ends up being slippery. This creates a hindrance for any vehicle to enter into the park. Spotting animals become rare during this period.
Distance between major cities and Tadoba National Park
Nagpur and Tadoba national park – 120 km
Pune and Tadoba national park – 788 km
Hyderabad and Tadoba national park – 435 km
Bhopal and Tadoba national park – 501 km
Jabalpur and Tadoba national park – 416 km
Mumbai and Tadoba national park – 919 km
Chimur and Tadoba national park – 32 km
How to Reach
By Air- The nearest airport is Nagpur (140 Km) from where it takes a 3- hour taxi ride to reach the park.
By Rail- Chandrapur (49 km) and Nagpur (151kms) are nearest railway stations.
By Road- The nearest bus stop is Chandrapur and Chimur (32 km), whereas bus or cabs are also available from Chandrapur to Mohali Village.
Wildlife Safari in Tadoba National Park
The main attraction in Tadoba national park is the safari. The park provides open Gypsy safari as well as bus safari along with guides.
Open gypsy safari is popular for spotting wild dogs, sloth bear, and others. The jeep or gypsy safari needs to be booked in advance in the DFO office which is near the park. Spot booking is available in the Navegoan entrance of the park. Online facilities are not readily available. Private jeeps can be hired from taxi stands.
The park has six entrances that allow safari vehicles to pass through.
Moharli Gate: It is the oldest entry of the park. It allows nine vehicles to pass through during each safari round. Only two safari rounds are allowed per day.
Kuswanda Gate: Only four vehicles are allowed through this entrance during
morning and evening. In total, eight vehicles enter each day.
Kolara Gate: Everyday 18 vehicles are allowed through this entrance.
Navegaon gate: This is the main entrance and has DFO office nearby.
The gate allows in all six vehicles to pass through during morning and evening.
Pangdi Gate: This is the far most entrance of the park. Only four vehicles are
allowed each day through this gate.
Zari Gate: This entrance allows 12 vehicles to pass through during a day.
Safari Timings
Gypsy and Jeep Safaris are always available in Tadoba National Park that helps in exploring the wildlife of the park.
Safari Timings are:
Morning Jeep: 6.00 A.M – 10.00 A.M. (entry allowed until 8.00 a.m.)
Afternoon Jeep: 3.00 P.M. to 6.00 P.M (entry allowed until 4.30 p.m.)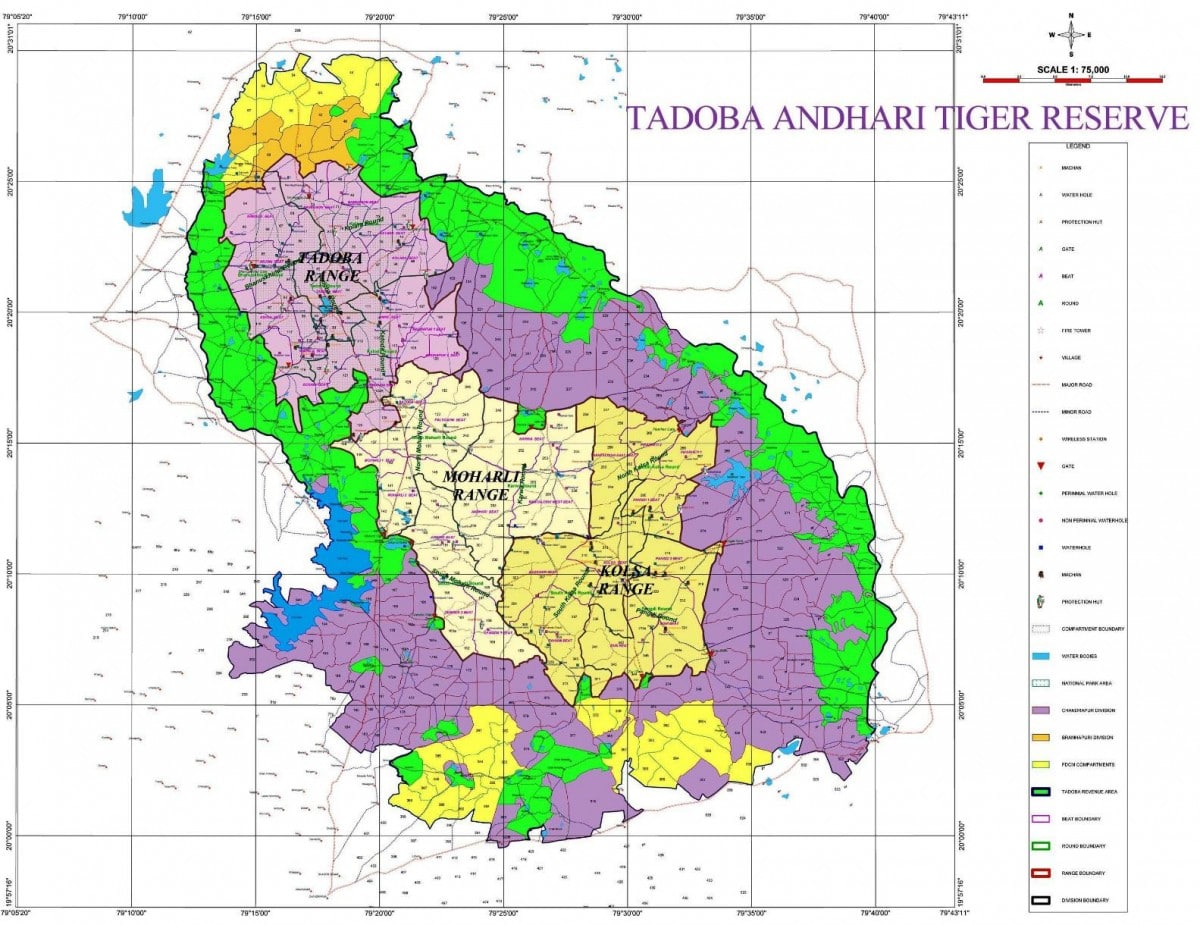 Tips for Tadoba National Park
Wear outfits with natural colors like green, brown and beige if you want to blend into the natural surroundings.
Do not litter inside Tadoba national park.
Do not speak loudly in the park, try and pay attention to the calls of wild animals in order to see and identify them in the wild.
Avoid using your cellphones in any national park. A cellphone has been banned in TATR since 1st December 2018 thus it is better to leave your phone at your resort before leaving for a safari.
Leaving your car inside the park during the wildlife safari is absolutely prohibited. Safari drivers and guides can get penalized and suspended if someone from their car is seen getting down.
Avoid taking food with you in safari but always keep a drinking water bottle. Nonvegetarian food is totally prohibited as its smell can draw in carnivores.
Respect the forest authorities and guides. Do not criticize them if you do not spot a tiger. It's just bad luck
To Get the Best Deals on customize tour or register for the fixed departure tour, fill the form below : 
[/vc_column]