Heaven for wildlife enthusiasts – Tadoba Tiger Reserve in Maharashtra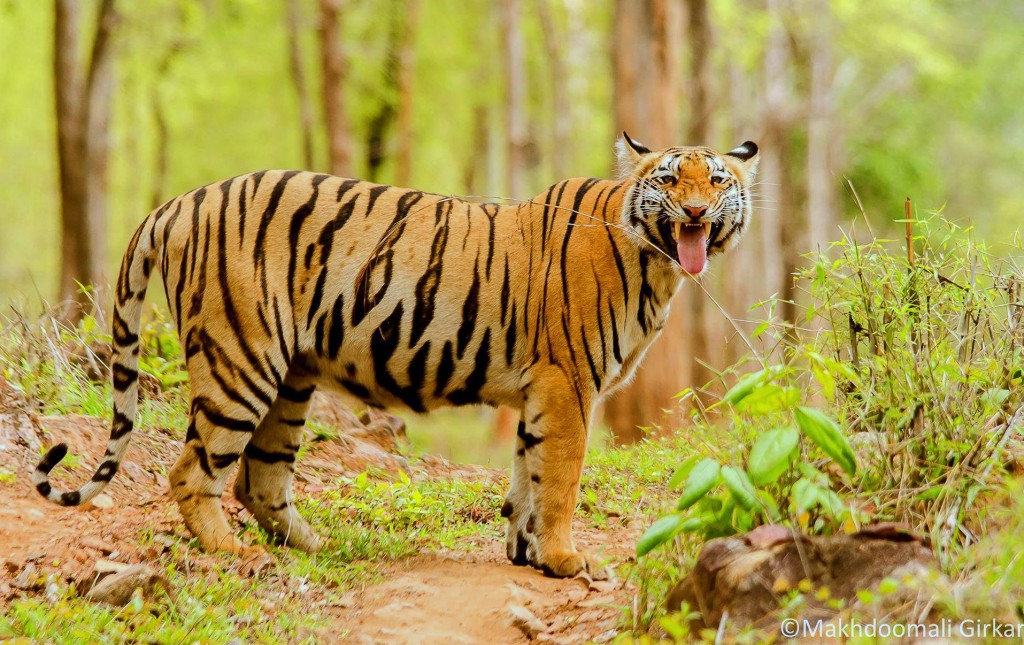 Tadoba Andhari Tiger Reserve is located in Chandrapur district of Maharashtra state, India. It is known as oldest and largest National Park of Maharashtra & it is a famous tourist destination in India. Tadoba Tiger Reserve is one of India's 41 "Project Tiger" – Tiger reserves. It is recognized as second Tiger Reserve in the Maharashtra. This Tiger Reserve was created vide Govt. of Maharashtra Notification No. WLP-1094/CR-225/F-1, dated 23/2/1995. Tadoba-Andhari Tiger Reserve area constitutes a unique ecosystem, comprising, wide range of flora and fauna with unique natural scenic beauty. It spans across a huge 625 square kms in area
Tadoba-Andhari Tiger Reserve comprises of 91 compartments, which are arranged into 3 Ranges, 10 Rounds & 34 Beats for management & administration purpose
ECO TOURISM VALUES OF TADOBA ANDHARI TIGER RESERVE
1) This area represents Southern Tropical Dry Deciduous Forests. There are around 80 tigers in the reserve with high frequency of Tiger sighting.
2) It is a huge biodiversity site surrounded by a large jungle area and thus has a long-term conservation value. It is literally a gene bank of wild relatives of the cultivated species 
3) Beside Tiger, it has a great number of wild animals like Leopard, Sambar, Barking deer, Cheetal, Chausinga, Nilgai, Wild boar, Wild dog, Sloth bear, Gaur along with rare ones like Flying squirrel, Pangolin ,Ratel, and Rusty spotted cat. The continuity with forests of Central Chanda Division , Bramhapuri & Chandrapur enrich the conservation prospects of these species.
4) Tadoba Tiger reserve has vast bird diversity along with diverse vertebrate species.
All above things make Tadoba-Andhari Tiger Reserve a favourite area for Eco tourism and conservation education.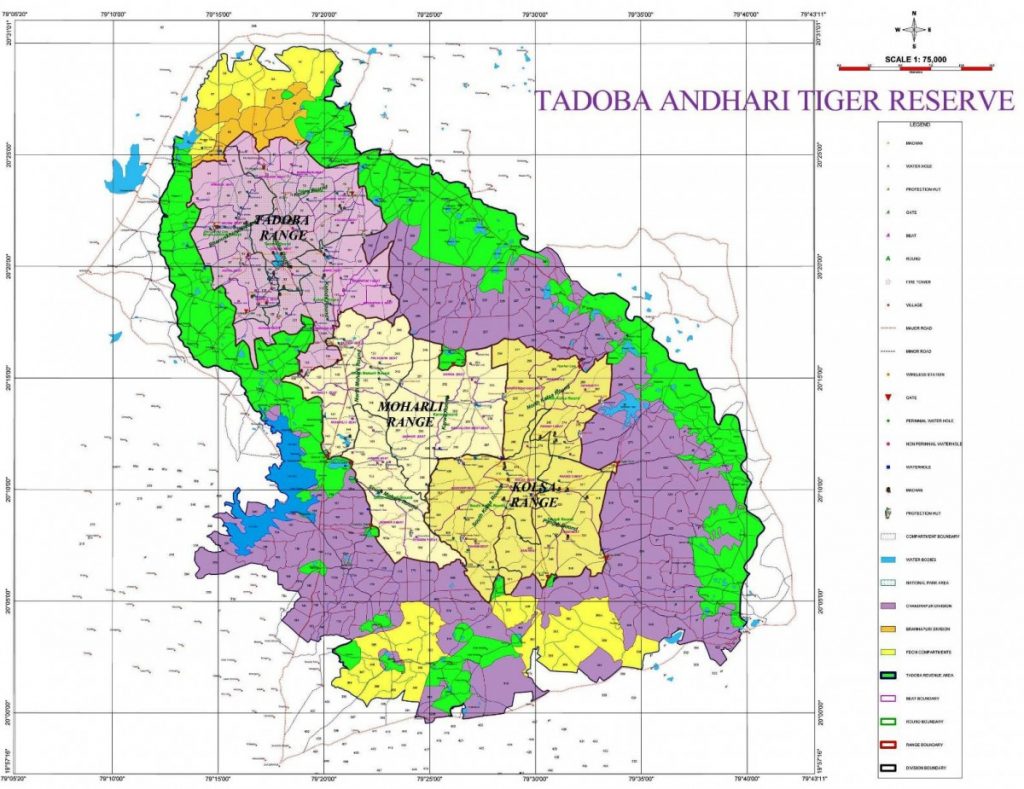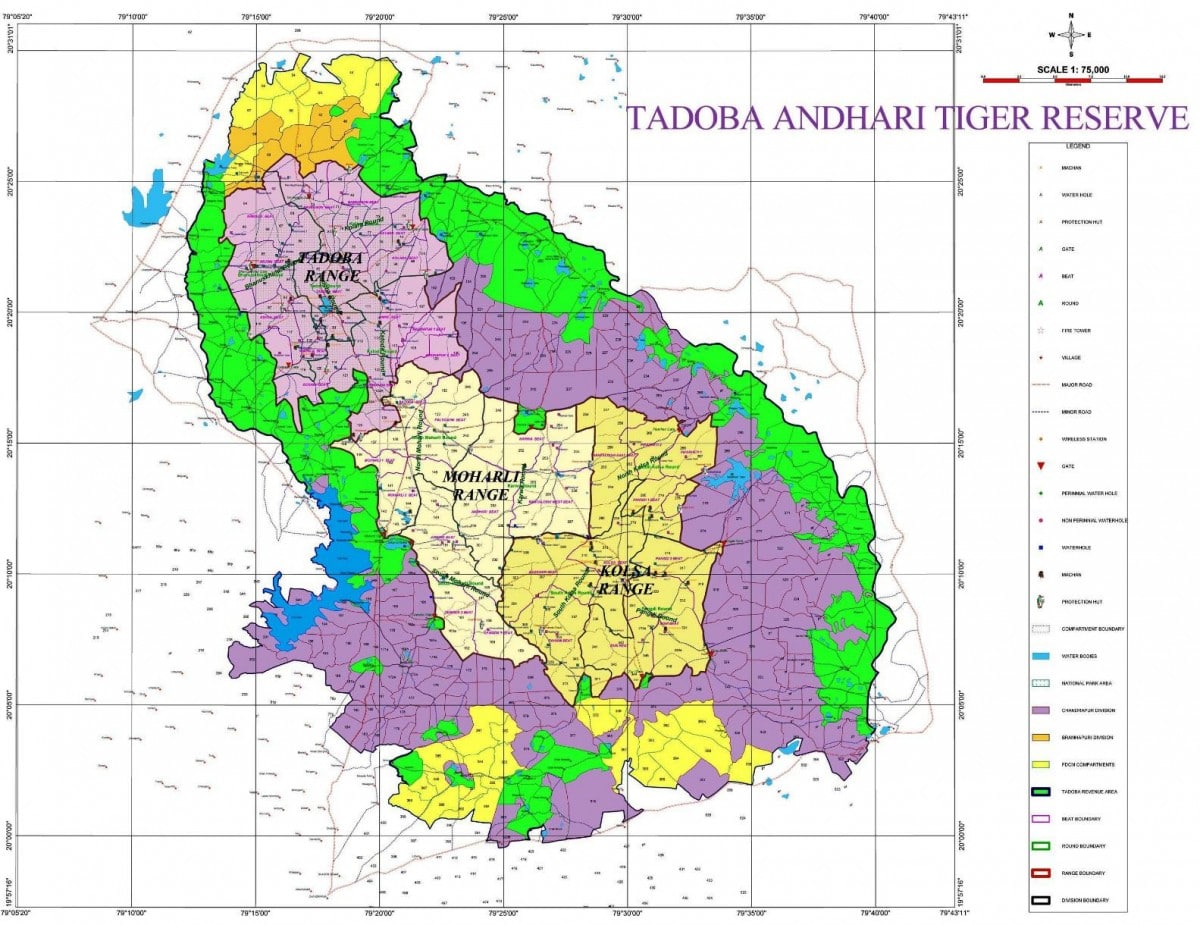 Weather Conditions
Tadoba Andhari Tiger Reserve receives plenty of rains during the monsoon season starting from mid-June. An average record shows 1200 mm of rain with 66% humidity. During the monsoon season, the insect and animal population rises while plant life flourishes. Winters are notably pleasant with temperatures varying from 25 degree Celsius to 30 degree Celsius. The summers last between months of February & May, with max temperatures rising up to 47 degree Celsius.
Best Time to Visit Tadoba Tiger Reserve
This park offers an amazing visual treat of wildlife, particularly while getting a chance to spot tigers. To witness the real wildlife, the ideal time to visit is from February to May. During this time, tigers, Gaurs, a herd of deer and other wild animals are easily seen in big numbers. Exploring these wold animals give a thrilling experience and a big treat to a trip.
How to Reach Tadoba-Andhari Tiger Reserve
Air – 
Dr.Babasaheb Ambedkar International Airport is located in Nagpur. It is the nearest airport to Tadoba Tiger Reserve. Many flights connect Mumbai, Chennai, Delhi and other important states with Nagpur. From airport, there are many options for road transportations are available to reach Tadoba Tiger Reserve.
Rail – 
Chandrapur railway station is the nearest railway station to the Tadoba Tiger Reserve. It is located 45 km away from Tadoba. This station connects trains to other important cities in the country like Mumbai, Jhansi, Delhi, Chennai & Hyderabad.
Road – 
Buses and cars are also available from Chandrapur to reach Tadoba. Chandrapur is well connected to all major cities through national highways.
Distance between major cities and Tadoba Tiger Reserve
Mumbai to Tadoba Tiger Reserve – 919 kilometres
Pune to Tadoba Tiger Reserve – 788 kilometres
Nagpur to Tadoba Tiger Reserve – 120 kilometres
Bhopal to Tadoba Tiger Reserve – 501 kilometres
Jabalpur to Tadoba Tiger Reserve – 416 kilometres
Hyderabad to Tadoba Tiger Reserve – 435 kilometres
Bhopal to Tadoba Tiger Reserve – 501 kilometres
KINDLY FILL UP BELOW FORM TO BOOK YOUR SAFARI ONLINE :